Welcome To Dentique Orofacial Care Best Dentist in Lucknow
Dentique Orofacial Care has set up his dental clinic with the aim of bringing the highest standards of dental care in Lucknow. It has been fashioned on the lines of dental treatment provided in the United States. Although there are several reasons why his clinic is considered the best dental clinic in Lucknow, some of them have been mentioned below-
It is Lucknow's 1st and entire north India's 3rd clinic to have this most advanced technology from Care Stream Dental.
Only dental clinic that has a team of highly experienced dentist's. Each one is a specialist in a different branch of dentistry. For example, an endodontist is a specialist in RCTs, Crowns, Fillings, Smile Designing, etc. While an orthodontist is a specialist in smile correction using braces, aligners, etc. Similarly, a Maxillofacial surgeon is a specialist in treating fractures, tooth removal, etc. Therefore the treatment results become much more predictable and reliable.
VISIT BEST DENTAL CLINIC IN LUCKNOW TODAY
Creating amazing smiles in our Lucknow Dental Clinic
Have you been looking for a dental clinic in Lucknow where your needs as a patient come first? A clinic that is so comfortable and inviting, you might forget you are visiting the dentist? A place where you never have to wait, you never feel rushed, where you are absolutely the only patient getting the doctor's attention? You just found it at the Dentique Orofacial Care !
Under the leadership of Dr. Kritika Verma (MDS) our goal is to provide you with the highest quality dental care using the latest techniques and cutting edge equipment.
Our philosophy is that dental treatment should be gentle and minimally invasive for the patient. At Dentique Orofacial Care , patients receive comprehensive care from experienced dentists and well-trained staff. And for this reason our patients consider Dentique Orofacial Care  as the Best Dental Clinic in Lucknow.
We know that you have high standards when it comes to your smile, and we meet them with care that is tailored to your specific preferences and expectations.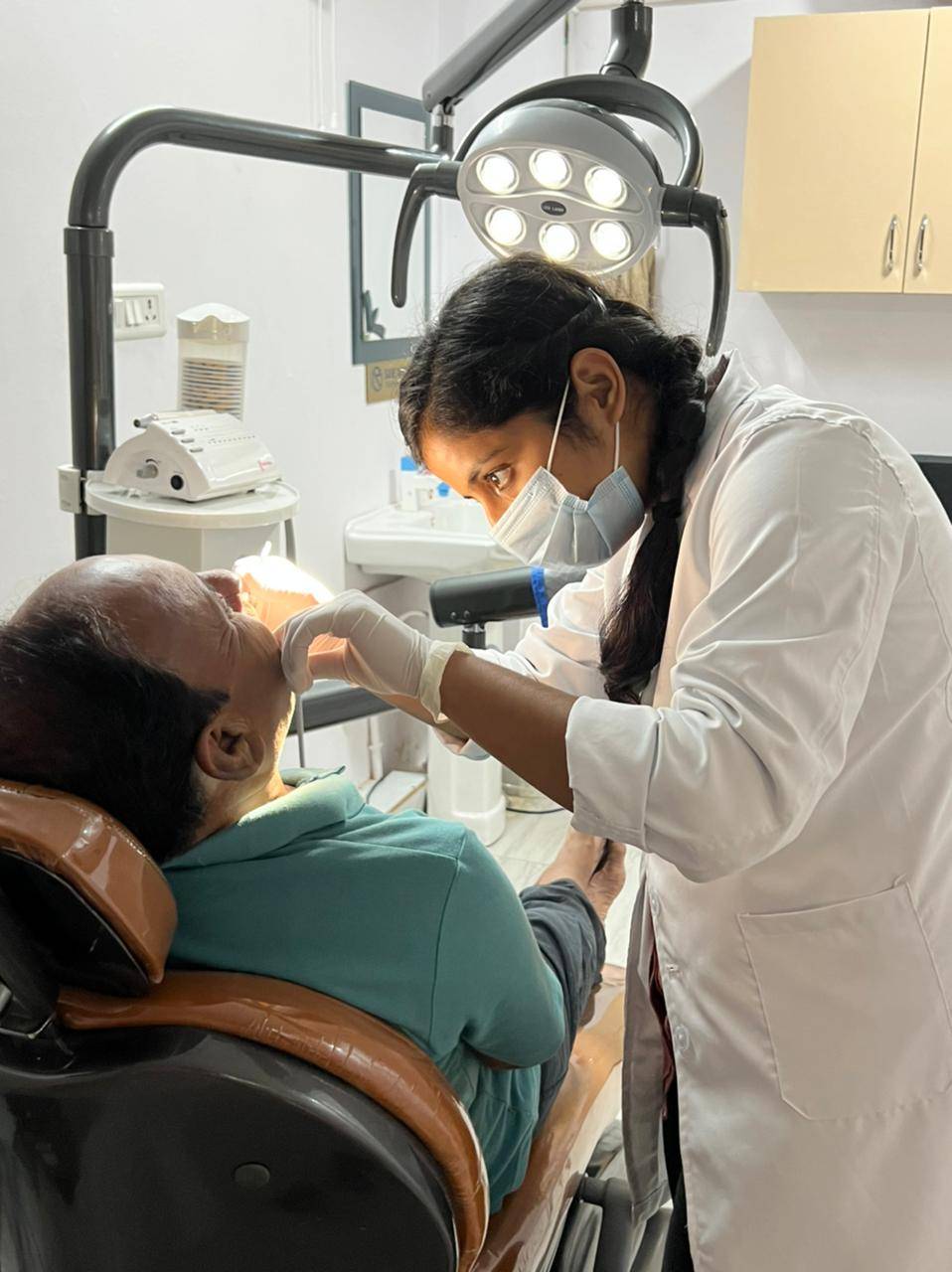 We Are Fixing Your Tooth!
Finding the Best Dental Surgeon in Lucknow
Oral health is an important part of our well-being. An irksome wisdom tooth or a broken jaw needs equal attention as may be irritable bowel needs. When it comes to zeroing in on the right dental surgeon, you should be careful enough to study the background of several dentists before settling for one of their services. There is no dearth of dentists in Lucknow. However, you should be duly aware of the fact that not all of them can be regarded as qualified dental surgeons who can treat your problems without leaving any room for complaint.
Finding the Best Dental Specialist
So, how exactly can you find the best dental surgeon? Your best dental surgeon in Lucknow himself will recommend the surgeon to you. Find out why exactly your regular dental clinic is recommending the specialist to you. What about his experience as a surgeon? What does his track record say about his skills? What are his specialties? You can never settle for the services of the top dental specialist if you are not asking the right questions and securing the right answers to the same. If you want you can also look for personal recommendations from friends, relatives and other trusted sources when it comes to finding the right professional.
At Dentique Orofacial Care , our aim is to keep you smiling. We do this by helping you find and book your appointment with the best dentists in lucknow. And to make things even easier, we provide you with their numbers, addresses, fee structures and even a map of how to reach them! With Dentique Orofacial Care , the most renowned dentists in lucknow are just a click away from you!
Know More
Why We are Best Dental Clinic in Lucknow?
Dentique Orofacial Care is known as the Best Dental Clinic in Lucknow for the following reasons:
Dentique Orofacial Care  provides personalized care and treatment that is focused on the elimination of the root cause of any dental problem that patients are experiencing.
We are equipped with the latest technology thereby making the treatment process pain free. We have the most advanced dental equipment coupled with state of the art sterilization facilities and laboratories.
Dentique Orofacial Care  follows the international standards for every specialty that exists within dentistry and adopts only a specialized approach to dentistry. We believe in delivering top quality Dentistry at the most affordable pricing.
We stand in every means to deliver you the best in the world of dentistry.
To be the preferred dental care service provider in every neighborhood across Lucknow by offering high quality Oral and overall healthcare, ethically. Dentique Orofacial Care  offers comprehensive oral healthcare services, the latest equipment & sterilization protocols, and utilizes the advanced pain-management technology to provide affordable healthcare of the highest quality.
To establish itself as the best dental practice in Lucknow, Dentique Orofacial Care  adheres to the highest standards in clinic safety and hygiene, with a constant focus on ethics and transparency.
Dentique Orofacial Care Best Dental Hospital in Lucknow
Get your smile back and enjoy life more. Dentique Orofacial Care hospital is the best multi speciality dental hospital situated in Aliganj, Lucknow, and is owned by Dr. Kritika Verma, who in addition to being a GOLD Medallist in BDS curriculum, also has received awards at national levels. She is one of the best dentist in Lucknow. She has an exceptional acumen in treating thepatients and her academic records and achievements are a testimony to the same.
For a relaxed and unique dental experience, coupled with the highest standard of dental treatment and care, look no further than us.
My visits to your office are always welcome relief from the stressful things in life! It's like getting together with friends or family to solve a problem.
Thanks Dr You and your team are super professional, you definitely care about high standards and took the time to make my filling replacement perfect. The office manager is top notch, she is tech savvy, cordial, accommodating and organized.
Years ago, I was smashed by a car while walking. Following a year of inpatient treatment, I squirmed through another year of root canals and restorations at the hand of a seemingly detached, Draconian Dentist. I decided I would never visit another Dentist ever again!